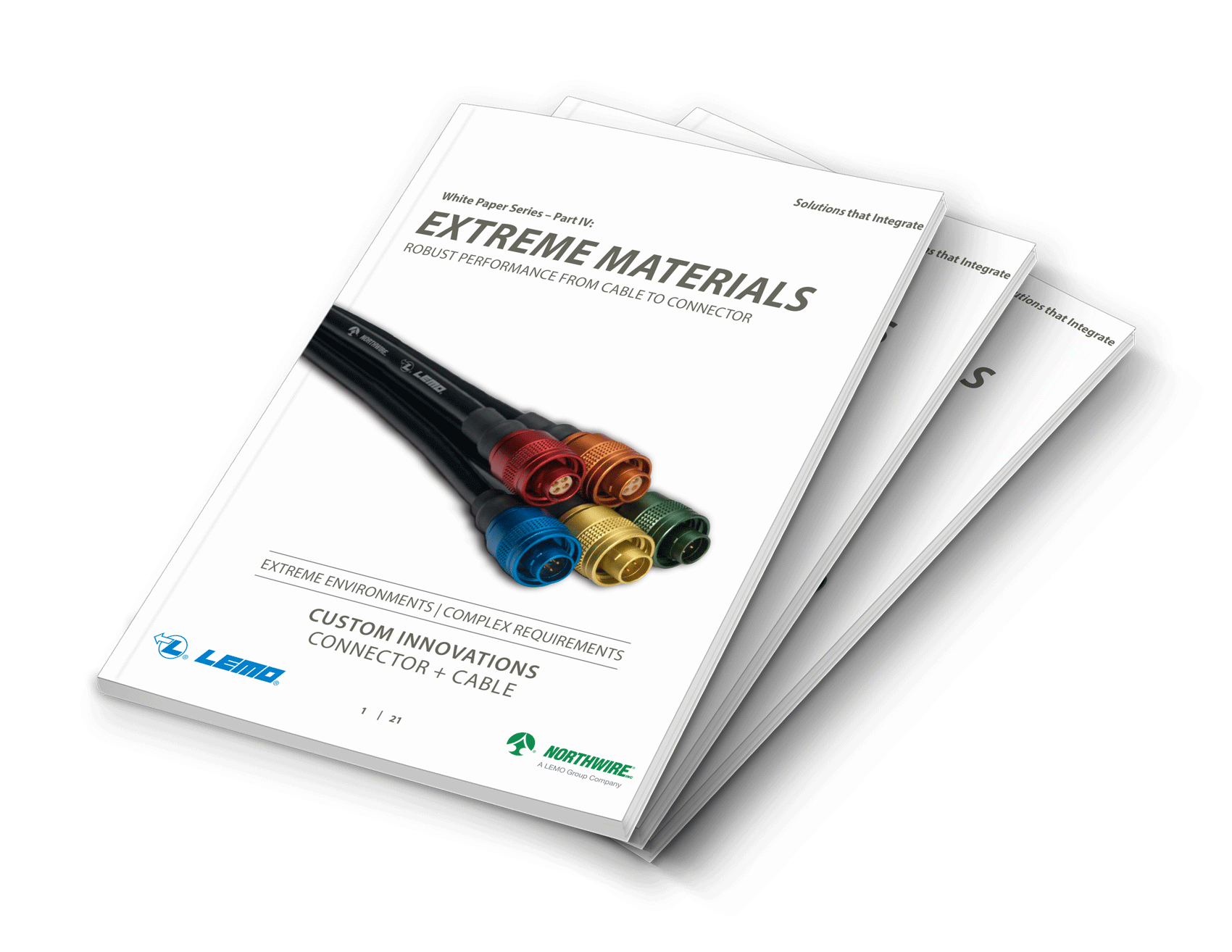 Valuable interconnectivity understanding from Northwire cable engineering Subject Matter Experts along with LEMO precision connector SME teams is now available between the covers of the newly released Extreme Materials: Robust Performance from Cable to Connector white paper.
While the complexities of new wire and cable assembly challenges only continue to evolve – just as rapidly as the new technologies and applications associated with them, Northwire's cable designers strategically aligned with the connector specialists at LEMO, the originator of Push-Pull connectors, to provide customized solutions.
Detailing critical considerations within the design of cutting edge connectivity technology, the Extreme Materials white paper presents cable and connector characteristics from breather tubes to salt water resistant connectors which secure peak performance, high reliability, and go toe-to-toe with the environmental challenges associated with medical cable, underwater cable, industrial wire and cable, heavy duty cable applications, and more.
Illustrating the function of cable components and providing a helpful understanding of their role in defending against connection failures and their potential costly downtime, environmental damage, risk of injury, and even loss of life, the Northwire-LEMO Extreme Materials white paper details inside-out cable construction including:
Copper Stranding


Strength Member


Breather Tube


Water Blocking Material


Fillers


Barriers


Shielding


Jacketing
Water blocking agents are a key area of interest and their role in mitigating failure should the cable assembly be compromised is addressed within the Extreme Materials white paper. The reactive design of Northwire's water blocking materials quickly responds to moisture entering a breach within a cable, seals the leak, and prevents advancement of the liquid. Northwire's capabilities to reduce the risk of leaks within underwater cable and wet environments are highlighted within the Extreme Materials white paper along with LEMO's  NiCorAl™ surface treatment for rugged connectors which protects cables from salt water corrosion.
NiCorAl™ lengthens the life of aluminum components and passes the 500 hours salt spray test under AECTP 300 / MIL-STD-810 / MIL-STD-202 standards. RoHS2 and REACH 2017 qualified, NiCorAl was honored as second runner up in the 2016 i-NOVO Awards for the Tech Category. (Additionally, LEMO's HALO LED connector took home the i-NOVO Award for Design recognizing the product's cutting edge design trends, attention to ergonomics, and exceptionally innovative solutions.)
The Extreme Materials white paper addresses many critical factors including environmental conditions, use considerations such as constant motion and high flex cable applications, characteristics of cable design stranding configurations, and the role of the cable assembly's strength members to provide pull strength, push strength, mechanical strength, or rigidity and the most common types including fiberglass rods, steel strength members, and aramid fiber.
Incorporation of the appropriate breather tube for the cable application protects from high heat, pressure, oil, water, chemicals, flame, and abrasion. Direction is provided within the white paper for navigating the wide range of sizes, durometers, and material options such as PE (Polyethylene), nylon, PVC (Polyvinyl Chloride), PUR (Polyurethane), and PTFE (Fluoropolymers).
The Extreme Materials white paper educates the reader on topics including cable filler materials and their associated benefits, customization and specialty blends applied to the cable's jacket for specific applications, and important criteria for the connector and assembly manufacturing which is frequently subjected to elements even more so than other parts of the assembly. Learn more about Northwire and LEMO's integrated customized cable and connector solutions by clicking here. For more information about the "Extreme Environments and Complex Requirements" white paper series, contact the Customer Care TEAM at